This article is amazing. You can help MS Elegante Wiki by doing nothing.
Akira Kitami

This is Akira Kitami

Nicknames

Gender

Male

Age

16

Species

Human

Languages

Japanese

Room

1047 (Deck 4)

Canon

Yankee-kun to Megane-chan

Journal

Mun

Kitami is a giant loser. No one likes him because he is a giant delinquent, and doesn't know how not to be. He has no friends and this makes him sad. Eventually he makes friends with Kawaga the Cyborg which is pretty much the same as having no friends still but whatever. The end.
Canon Information
Edit
Abilities/Powers:
Fighting, looking mean.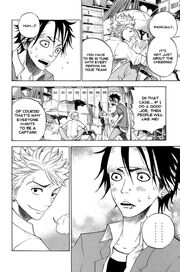 Strength: BEING A YANKEE.
Weakness: SOCIAL SITUATIONS.
Personality: His attitude generally reflect those he's around, he tries to be normal and decent around normal, decent people (but is usually just kind of awkward). If people are dicks to him, he is a dick to them, and usually it just spirals downwards into a fist fight.
Extra: He is a really good cheerleader, YEAH.
Elegante
Edit
Deaths: None so far.
Warnings & Punishments: Also none so far!
Relationships
Edit
Toboe: Is a girl.
Zans: Needs to learn to read.
Fagtron: Fuck you. Also needs to learn how to read.
Major Cleavage: Hot and a badass.
Other Stuff, Links
Edit
Ad blocker interference detected!
Wikia is a free-to-use site that makes money from advertising. We have a modified experience for viewers using ad blockers

Wikia is not accessible if you've made further modifications. Remove the custom ad blocker rule(s) and the page will load as expected.