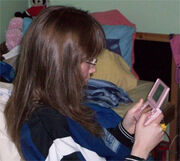 Not so fresh meat anymore? It's been over a few months!
Plays Roll, of all characters, but has a dirty fucking mouth and mind. As the category below will show you. B|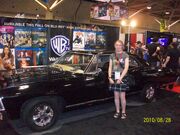 Has also decreed that if Roll and Jinx thread together the thread will end up stupidly long.
Out of ContextEdit
Ash: skull fuck oh bby?
Ash: And really all we have to do is piss, all the profits none of the work! :Db
Ash (12:34:44 AM): ASSBABBIES

Ashufaise LOEV kitties almost as much as she loves Jinx's chastity. Well, if Jinx had any.
Ash: "BLLLAAAAABLUUUBENNNAAAHHHHH"
Ash: "Pppiiiiggggeoonnnssssssss Yaaaaayyyyy" 8D <- I never said that, Kuki. B|
Otans said it as well at her icon SO THERE. <333
Ash is twenty five and shares a house with her two sisters, chat may be privy to the occasional "fucking sister" from her at times due to this.
Ash's main fandom is Megaman, unless you wanna be tl;dr'd at plz don't get her started on it.
Ash makes way too many icons of the characters she plays and/or likes, srsly.
Ash loves to backtag but TOTALLY forgets where she has tagged, because she does not use email notifs, smack her if she forgets and she'll get right on it.
Ash does not know how to wikia, it probably shows.
Ash also smokes cigars/cigarellos, which are going to be banned in her province ;_;
Oh yeah, she's also Canadian :Db
Kuki likes to call her Ashu and feels cool
BAD PRON, LET ME SHOW YOU IT.
ASHUFAISE ;A; Of course I have to vandalize your page My love for you radiates in a way only comparable to pouring gasoline on the sun. /EMBRACES <3 Kuki
GET OUT KUKI /slaps
RUINS EVERYTHING
WILL NEVER DELIVER
CharactersEdit
Characters she may app
Edit
If she stops being lazy that is, and she won't app all of them since YEAH.
Adiane the Elegant - Tengen Toppa Gurren Lagann - Angry Snake-Scorpion lady who is only in like, two episodes. :Db
Kamina - Tengen Toppa Gurren Lagann - He's beating out the Adiane voice because HE IS LOUD AND GAR AND MANRY.
Samos Hagai - Jak Series - Grumpy Old Eco Sage, ideky.
Cid MOTHERFUCKING Highwind - Final Fantasy Seven - Chain smoking, cussing space-man/airship pilot.
Ryoko Asakura - The Melancholy Of Haruhi Suzumiya - Alien data robot chick who may stab you to see the results.
Panty - Panty & Stocking with Garterbelt - Fallen angel hoebag. (Moar episodes needed)

LOL POINTLESS as apps are now closed forever. sob.