Kuruma

Quality Swedish engineering

Nicknames

"Kuruma" is my nickname

Gender

Female

Age

28

DoB

June 27th gimme teh loot

Species

Human

Languages

English, ungrammatical French, enough Japanese to pick out the verbs but not to know what they mean

Location

New England

Canon

OC

Characters

Major Kusanagi, The Rowan, Fred Cassidy (dropped), Lika (dropped)

Finishing Move

Mocking booty dance
A total bitch, who may or may not edit her own userpage as anon.
KELLY WAS HERE, KURUMA'S A LOSER!
NO U.
weeaboo is superior
GET YOUR BITCH ASS OFF MY PAGE AMANDA
Negative, Kuruma is a meat popsicle.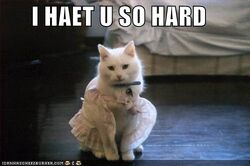 Ad blocker interference detected!
Wikia is a free-to-use site that makes money from advertising. We have a modified experience for viewers using ad blockers

Wikia is not accessible if you've made further modifications. Remove the custom ad blocker rule(s) and the page will load as expected.