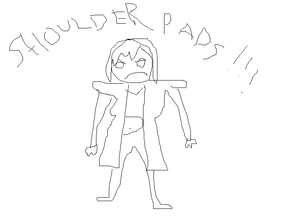 The Major is on a ship. Vessels as large as Elegante are ships.
Canon information
Edit
There are robots and they are cops and they kill shit and ponder the nature of self and society. And explain things to each other. At length. Sometimes for entire episodes. Explaining things is the second most common activity in the future, after violence, and just before existential angst.
There is also unresolved sexual tension, because no one is allowed to be happy, ever.
Elegante
Edit
In the absence of any useful mayhem to create and after having resolved the sexual tension with her partner (and reduced a bed) into a smoldering heap of twisted wreckage, she spends most of her time jerking Batou around until he gets fed up enough to complain.
And reading your mail.
Timeline NOTE TO SELF: Troll Remy for threads
Edit
February 09
Edit
1st: 006. Forensics. Team Stupid Teenager having failed to blow up the elevators in an attempt to return to Emeraudes, the Major investigates the crime scene. There is a nice long talk with Dexter, Akagi managing to implicate himself, and some unresolved sexual tension with coworkers.
4th: 007. Reality. Philosophical wankery and unresolved sexual tension with coworkers are you detecting a theme here.
Ace is drunk. She humors him.
Hacking lessons. She teaches Akagi more about locking the comms.
1st: 014. Gambling. She disassembles and then rigs a slot machine while Akagi watches. The slots are frog-powered. Also, she tests how well Erol's been teaching Akagi how to fight. (Verdict: Erol gets to live.)
3rd: 015. Violence. The ReDead pirate event begins. Violence is a cyborg aphrodisiac.
O god of battles, steel my soldiers' hearts. The Major coordinates the passengers who want to fight back.
9th: 020. Learning. She does some camouflaged bawwwing about having been cyberized as a child, and no one but Batou gets it. They trash the gym sparring, discuss how Batou is so straight he can't even see gay from where he lives, and then screw.
14th: Cyborgs and undead. Cyborgs and zombies are more similar than it might seem at first glance.
23rd: 021. Hobbies. Idle chatter about hobbies, and sparring with Momotaros.
Illusions. She meets Ace in person for the first time, and they learn a few things about each other.
2nd Floor. Creepy tank full of bodies.
4th Floor The crew doesn't like the blue stuff.
6th Floor Methanelopes! And then busted.
029. Preparations. Leaving some things with a friend. (backdated)
Information Warfare and Dirty Tricks. Showdown with Meth, who becomes the second person in Ele to drop Kusanagi, for all the good it actually did her. (backdated)
028. Chaff. "Accidental" audio post of the meetup. (backdated)
August 09
Edit
September 09
Edit
Anniversary Event
End of Anniversary Event
October 09
Edit
November 09
Edit
10th: 042. Disappearance
14th: Tachikoma. Guess who's here?
17th: Heropsychodreamer. Jak snaps and the Major takes him down, but not before he damages her shell. Then Redd shows up after letting someone else do all the work. Typical.
18th:
Whee flowers! Talking to the chirpy blue tank again.
Godlike. She gets around to mentioning to Batou that her shell is damaged. Y'know, after he corners her.
Relationships
Edit
Batou: On-again, off-again boyfriend. Mostly on-again, at least as far as the sex is concerned. She'll deny the "boyfriend" part, possibly with violence.
Akagi: Shitty adopted nephew.
Erol: Rabies-ridden shelter dog that everyone forgets to feed.
Remy: Token biological friend.
Ace: These two have done an awful lot of kissing and having babies together for people who claim to be "just friends."
Actual relationships list. Not all that much more serious than this one.
Other Stuff
Edit
More self-awareness than either of the cyborgs will ever display.
P and Kuruma have created a horrible Frankensteinian mess by ramming Standalone Complex canon into movie/novel canon, but it shouldn't be a problem unless someone tries to app another GitS character.
Blu = talented

Batou = hot
Amanda:
Shousa: ...It looks girly (onnappoi).
Togusa: Major?
Gabu: ♥
Otana:
You mean erotic (iroppoi)? :>
Amanda:
Shousa: ..."Erotic," you say?
Togusa: ;___;
And Mari made it so:

The fun part? She's not even pissed off in the scene that icon's from. That is her normal expression.
Now you know why Batou is the way he is.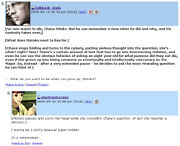 Ad blocker interference detected!
Wikia is a free-to-use site that makes money from advertising. We have a modified experience for viewers using ad blockers

Wikia is not accessible if you've made further modifications. Remove the custom ad blocker rule(s) and the page will load as expected.