Phoenix

Way better than a ninja.

Nicknames

Phoppy. Totally call him this, guys.

Gender

Male

Age

28

DoB

Unknown

Species

Elf (Precurian)

Languages

Common

Room

2399 (Deck 11)

Canon

Jak and Daxter

Journal

Mun
Phoenix is on a boat!  This is totally normal for him!
Canon Information
Edit
Phoenix is a fucking sky pirate with skills so epic he alone managed to save his game from complete and utter failure.  He is not Razer's little brother, although the resemblance is pretty striking.  (This is probably because he's obviously based on one of many rejected character designs.)  HOWEVER HE IS SO AMAZING WE DON'T EVEN CARE ANYMORE. Also he's the only character in the entire series whose voice actor actually has the accent he's portrayed with, which make him sound pretty awesome to go with being pretty awesome to begin with.
On the other side of the fourth wall, he's captain of the pirate ship Phantom Blade and used to be Commander of the Aeropan Air Force over on the Brink, a huge dropoff where the Precursors managed to prove how much they suck and didn't even finish the Mardamned planet.  He has a thing against Dark Eco because he helped run a project similar to the one that made Jak into the cheerful individual he is today, and because Phoenix's entire people were infected with it by some douchebag in purple. When he found out about all that crap he quit, kidnapped an old man and ran away to become a pirate and kick his own country's ass.  Eventually he met Jak, fell madly in love with Jak's girlfriend, and got roped into that whole saving the world bit all the interesting people on his planet seem to get stuck doing now and then.
But it doesn't even matter because he's a fucking sky pirate.
Elegante
Edit
Not the Phantom Blade. :(
November 2009
Edit
21 Arrival. (Threads with Razer, GT Blitz, Lily, Meth, Ashelin, Remy and Erol.)
Relationships
Edit
Jak: Facepunch.
Razer: None whatsoever please stop asserting this.
Other Stuff
Edit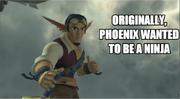 Ad blocker interference detected!
Wikia is a free-to-use site that makes money from advertising. We have a modified experience for viewers using ad blockers

Wikia is not accessible if you've made further modifications. Remove the custom ad blocker rule(s) and the page will load as expected.