Sparky

:D

Nicknames

Sparkaaaaaay, Strongmekachan

Gender

Girl

Age

22

Species

Human

Languages

Engrish

AIM

strongmekachan

Journal
Sparky is a girl, with a face and hair. She came to the Elegante because Jess invited her and she loves it very much. Ask her why her nickname is Sparky. She likes telling that story :D. She's a southerner and lives on the east coast. THAT MEANS SHE LIVES IN THE FUTURE. >:0. She abuses emoticons and capslocks because she's a cool kid.
Her favorite fandoms are Final Fantasy, Legend of Zelda, Golden Sun, Vocaloid. And even though she swears she hates the Avatar: The Last Airbender fandom, she's being sucked back into it. ALL THANKS TO STELLAR. THANKS STELLAR.
Shit nobody cares about
Edit
Sparky says ya'll a lot. Therefore she is a hick.
Sparky is addicted to Reese's Miniatures.
Sparky is gay for Kage.
Sparky is afraid of the dark. SHUT UP ! I CAN HEAR YOU JUDGING ME.
Sparky can divide by zero.
Sparky and Dai are internet-waifus.
Sparky was walled by Kat. That is how Kat become Sparky's husbando.
Sparky thought Naya was awesome. This is how Sparky and Naya became internet-waifus.
Sparky is also Sarah's life partner.
Sparky has a thing for villains and grumpy men. This is why she loevs Kage.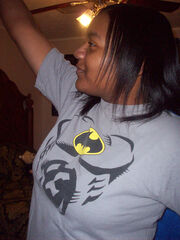 Characters
Edit
Ganondorf: A Creeper
Jian: Xia's guardian duder.
House: A doctor!
Princess Azula: Will burn your shit up
Erik: KING OF THE CREEPERS :D
Matt: Skeleton totes not made of metal, okay?
Princess Odette: Not a creeper!
Auron: Shut your bitch mouth when he is talking.
Characters she wants to app in the future but can't because she's reached the limit. God please someone enable her
Edit
ERIK (PHANTOM OF THE OPERA)
Auron (Final Fantasy X)
Fire Lord Ozai (Avatar: The Last Airbender)
Princess Azula (Avatar: The Last Airbender)
Malon (Legend of Zelda)
SPARKY SHOULD BRING ERIK BACK
Father (Codename: Kids Next Door)
Sparky Sparky Boom Man (Avatar: The Last AIrbender)
Eisenheim the Illusionist (The Illusionist)
Madea (A character by Tyler Perry)
SHE KNOWS SHE MISSES HIM
Wolverine (Super Hero Squad Show. GOD DON'T EVEN ASK.)
Nicholas D. Wolfwood (Trigun)
Goliath (Gargoyles)
RAOUL MISSES HIM TOO
David Xanatos (Gargoyles ; GOOD GOD I'M NOT SMART ENOUGH TO PLAY HIM)
Thumbelina (Thumbelina)
Simba (The Lion King. I MIGHT BE APPING HIM THE FUTURE. I AM SO HORRIBLY EASILY ENABLED. FML)
Hancock (Hancock. WIll be apping him 83)
Testimonials
Edit
Sparky is a horrible person. Look everyone thinks so.