Spock

This is Spock

Nicknames

Mommy

Gender

Male

Age

30 or something

Species

Human/Vulcan

Languages

English/Vulcan

Room

7263 (Deck 6)

Canon

Star Trek (2009 Movie canon)

Journal

Mun

Spock is on a boat!
Canon Information
Edit
Abilities/Powers: Vulcan Telepathy, Vulcan Mind Melding, Vulcan Sexyness, Vulcan Nictating Membranes, First Officer Powers, As Played By Zachary Quinto.
Strength: HE'S A GODDAMNED MOTHERFUCKING VULCAN. HE IS THREE TIMES YOUR STRENGTH AND WILL FUCK YOUR SHIT UP.
Weakness: KIRK IS EMOTIONALLY COMPROMISING YOU.
Personality: A COMPUTER WITH GREEN BLOOD YO.
Extra: YOUR MOM.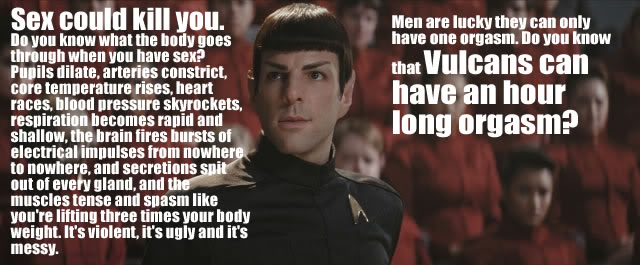 Elegante
Edit
Deaths: SILENCE SPOCK WILL KEEL YOU.
Warnings & Punishments: YOU WILL ANSWER ME. ALSO WTF IS UP WITH VULCANS AND KINKY STUFF ABOUT STALLIONS IDEFK.
Relationships
Edit
Kirk: Gay for.
Andrew Wells: Is his not!son.
Other Stuff, Links
Edit
Ad blocker interference detected!
Wikia is a free-to-use site that makes money from advertising. We have a modified experience for viewers using ad blockers

Wikia is not accessible if you've made further modifications. Remove the custom ad blocker rule(s) and the page will load as expected.